Book and Lyrics by David Lindsay-Abaire, Music by Jeanine Tesori
Directed by Matt McNabb
Music Direction by Louis Berg-Arnold
In a faraway kingdom turned upside down, things get ugly when an unseemly ogre — not a handsome prince — shows up to rescue a feisty princess. Throw in a donkey who won't shut up, a bad guy with a SHORT temper, a cookie with an attitude and over a dozen other fairy tale misfits, and you've got the kind of mess that calls for a real hero. Luckily, there's one on hand…and his name is Shrek.
Based on the Oscar®-winning DreamWorks film that started it all, Shrek The Musical brings the hilarious story of everyone's favorite ogre to dazzling life in an all-singing, all-dancing extravaganza to the stage.
Production Photos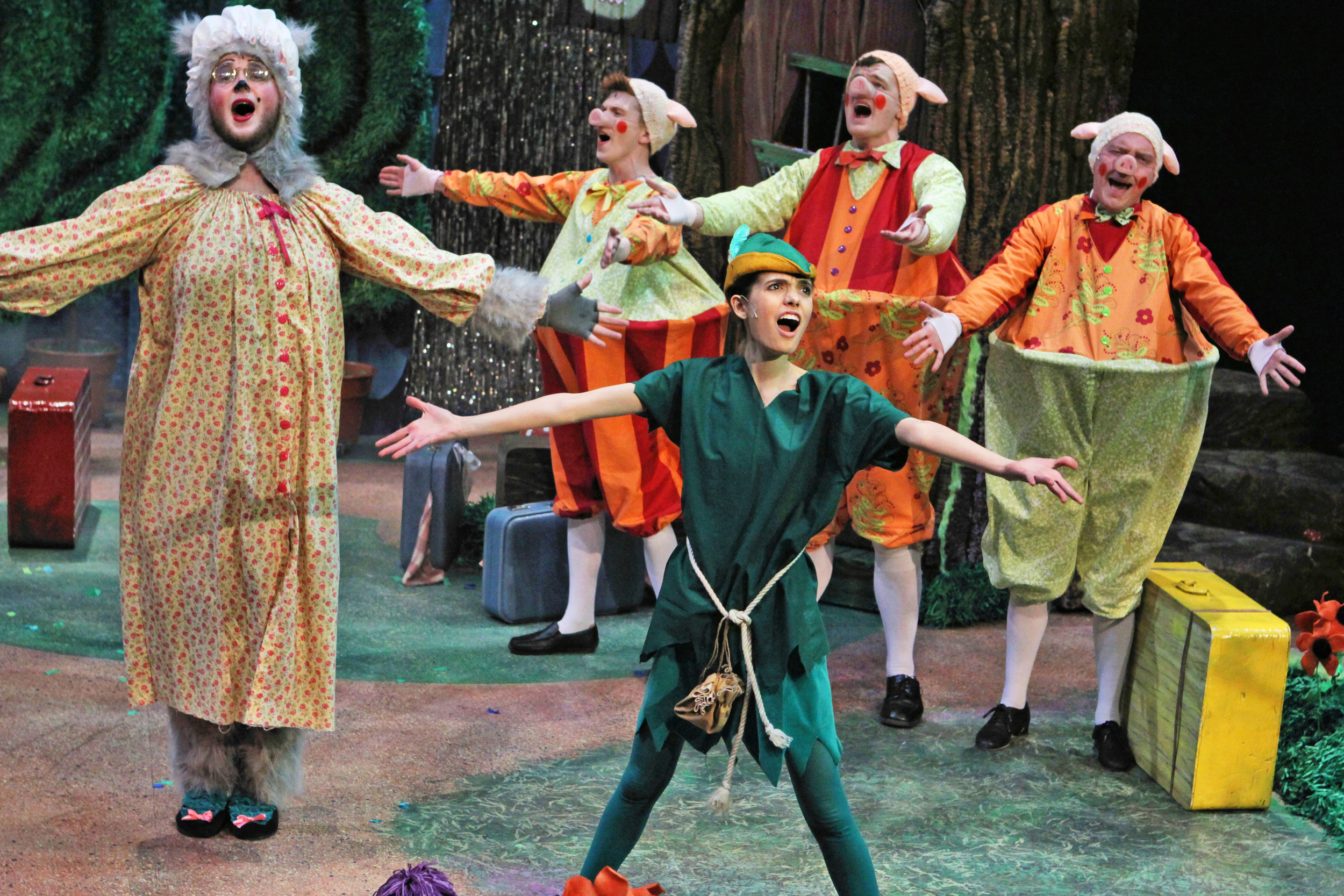 Photo credit Scott Pakudaitis
Multimedia
Cast
Shrek: Martino Gabriel-Mayotte
Fiona: Anna Larranaga
Donkey: Ricky Morisseau
Lord Farquaad: Kyler Chase
Little Ogre/Young Fiona/Humpty Dumpty/Others: Natalie Tran
Mama Ogre/Mama Bear/Others: Atim Opoka
Papa Bear/Others: Michael Conroy
Baby Bear/Others: Tim Davis
Captain of the Guard/Others: David Vandergriff
Pinocchio/Others: Nikko Raymo
Peter Pan/Others: Kayla Coffland
A Three Pig/Others: Kyle Szarzynski
Papa Ogre/Big Bad Wolf/Others: Taylor Bothun
A Three Pig/Others: Brendan Veerman
A Three Pig/Others: Seth Gabriel-Mayotte
Dragon/Gingy/Sugar Plum Fairy/Others: Katharine Strom
The Wicked Witch/Teen Fiona/Others: Callie Schroer
Artistic Staff
Director: Matt McNabb
Music Director: Louis Berg-Arnold
Choreographer: Lauri Kraft
Stage Manager: Lyndsey Harter
Scenic Designer: Brian Proball
Costume Designer: Samantha Kuhn Staneart
Lighting Designer: Jim Eischen
Properties Designer: Emma Davis
Puppet Masters: Gabriel Gomez, Nate Otto
Sound Designer: Jeff Geisler
Makeup Designer: Mark Lopez
Scenic Artist: Jane Ryan
Asst. Stage Managers: Wesley Holm, Cody Wagner
Makeup Crew: Lea Brucker, Brianna Nesset, Megan Weisenberger
Sound Board Operator: Jason Hobbie
Follow Spot Operator: Blues Bland, Bob Francis