Oct 10–Nov 2, 2014
Book by Mel Brooks and Thomas Meehan
Music and Lyrics by Mel Brooks
Directed by Matt McNabb

This hilarious musical comedy is a wickedly inspired re-imagining of the Frankenstein legend based on Mel Brooks' 1974 movie masterpiece, hailed by the American Film Institute as one of the funniest movies of all time. The story follows bright, young Dr. Frankenstein as he aims to fulfill his grandfather's legacy by bringing a body back to life. With help and hindrance from his servant Igor, his buxom lab assistant Inga, and his needy fiancee Elizabeth, Dr. Frankenstein's experiment is a surprising success that leads to unexpected, sidesplitting consequences.
Production Photos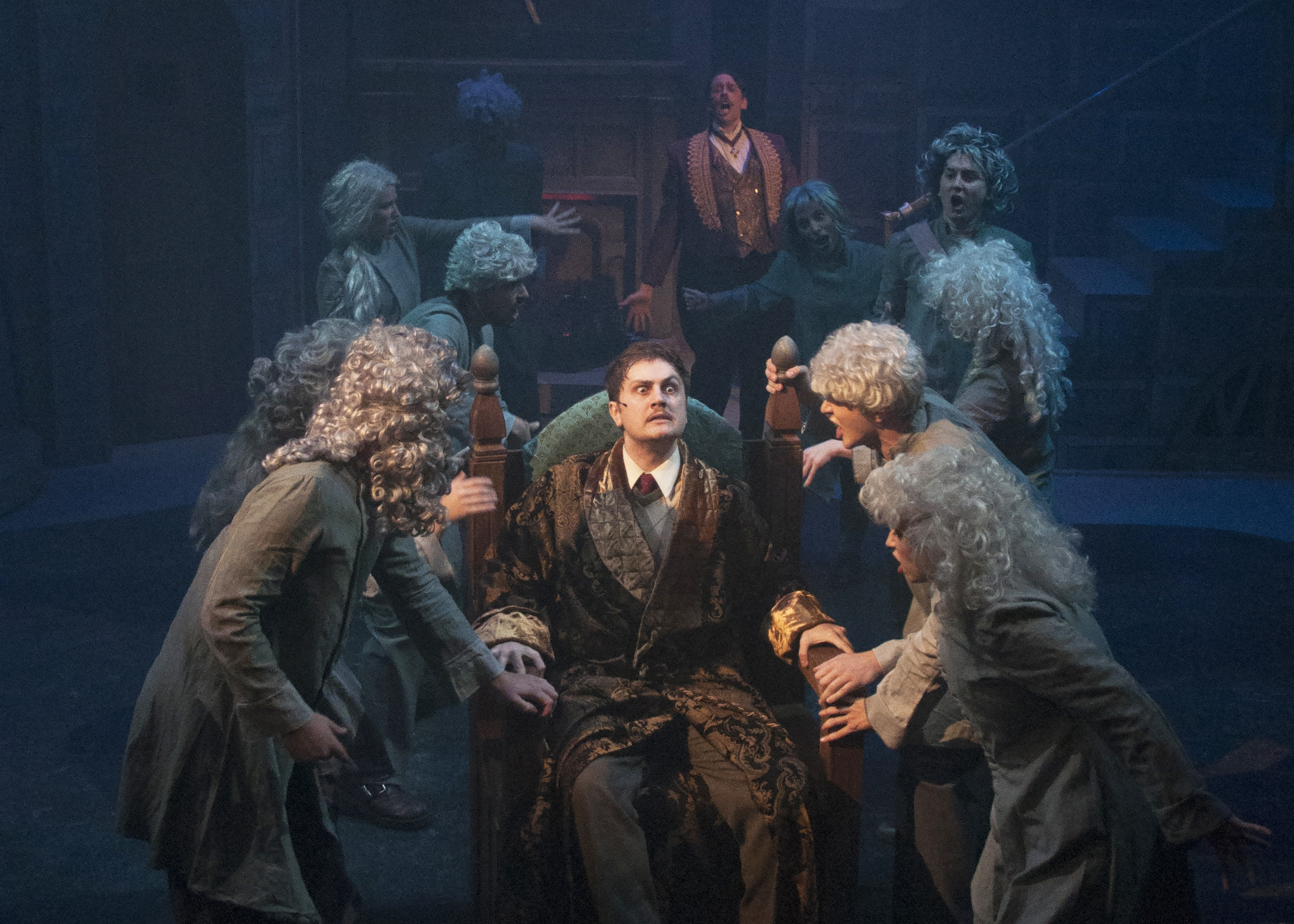 Cast
Dr. Frederick Frankenstein: Kyler Chase
Elizabeth Benning: Katharine Strom
Inspector Kemp/Dr. Victor Von Frankenstein: Nick Menzhuber
Inga: Nykeigh Larson
Igor: Brendan Veerman
Frau Blücher: Kate Beahen
Ziggy, the village idiot: Jarome Smith
The Monster: Tom Goerger
The Hermit: Brad Bone
Ensemble: Maurice Britts, Michael Conroy, Courtney Groves, Molly Jo Hall, Brittney Klepper, Briana Regan, Ben Schrade, Michael Tober, Hannah Weinberg
Artistic Staff
Director: Matt McNabb
Music Director: Louis Berg-Arnold
Choreographer: Ann Marie Omeish
Stage Manager: Pat Campbell
Scenic Designer: Brian Proball
Costume Designer: Samantha Fromm Haddow
Lighting Designer: Jim Eischen
Specialty Prop Designers: Lea Chapaton, Heather McLaughlin, Nate Otto
Sound Designer: Jeff Geisler
Makeup Designer: Claire Campbell
Asst. Costumer: Libby Porter
Asst. Stage Managers: Claire Campbell, Cody Wagner
Sound Board Operator: Jason Hobbie
Light Board Operator: Jes Larson
Follow Spot Operators: Marcie Anderson, Mari Fauver